The 6th Baronet, Sir Thomas Frankland, came into his inheritance at Thirkleby in 1784. He was a botanist with a particular interest in algae (Fucus) and, during the course of his life, gained fellowship of the Royal Society as well as the newly formed Linnean and Horticultural Societies. He also had a plant genus Franklandia named after him by the Scottish botanist Robert Brown that he referenced in his 1810 paper for the Linnean Society: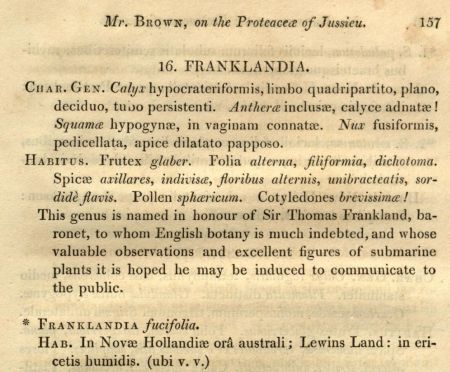 Earlier in his life he served as MP for Thirsk on two separate occasions and, from around 1785, had overseen the building of a mansion on a new site in the park which JC Loudon noted was 'remodelled, partly from the proprietor's own ideas and partly from those of the late Mr Meikle'1.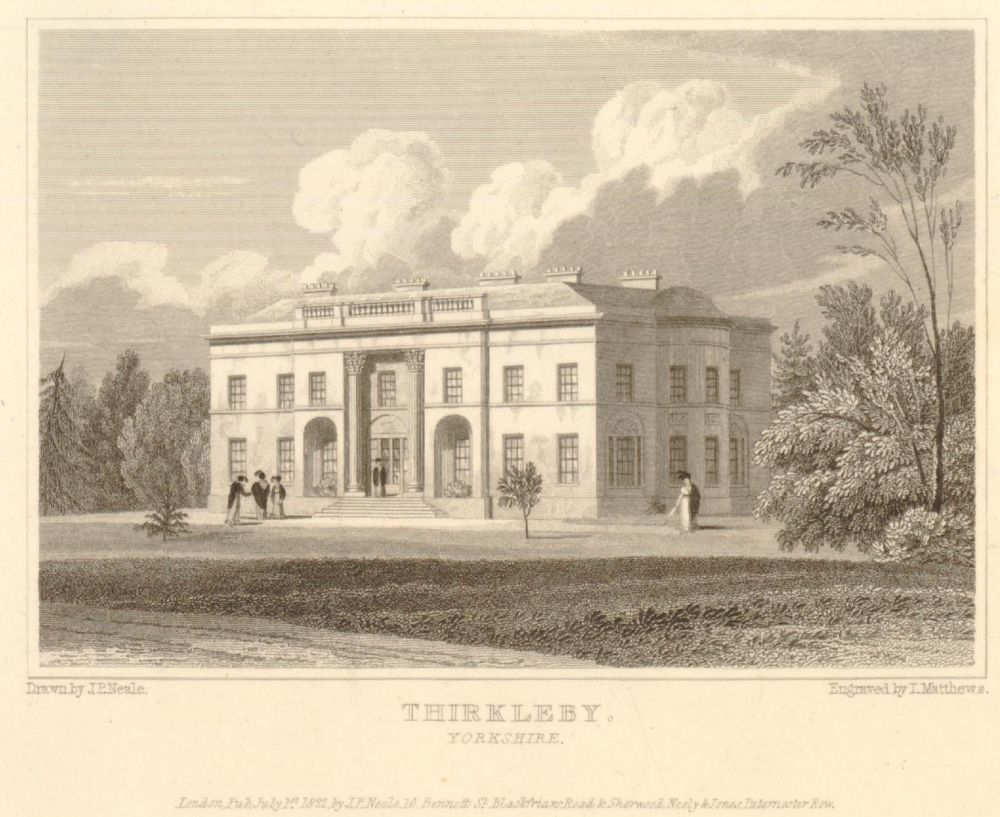 He had also suffered the death of his three daughters and eldest son. However, from the early 1800s with parliamentary duties, family tragedies and building works behind him, Sir Thomas' letters reveal more interest in his garden at Thirkleby. During his life he corresponded with Sir Joseph Banks, the Sowerby family and James Smith, President of the Linnean Society, and it is his letters to the latter that give us the glimpse into his gardening described here2.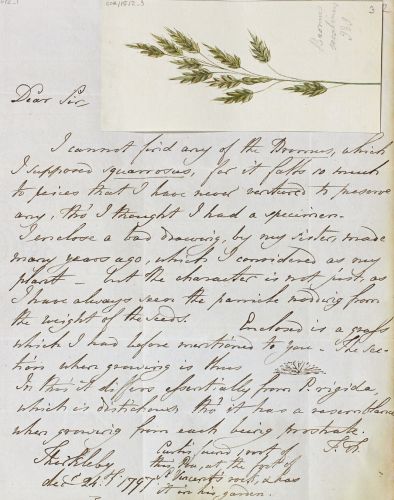 As befits a man of the Enlightenment he was always ready to try new things and to 'improve'. 'Of all the luxuries of horticulture a Mushroom house is the best worth purchasing' he enthused in October 1817 (GB-110/JES/COR/15/55) having just built one, inspired by the design of Isaac Oldaker [Oldacre], though improved by himself as 'mine has the advantage for the flue is above ground' (ibid). He may have heard Oldaker's presentation on the topic to the Horticultural Society of London earlier in the year3 or he may have had earlier contact with him at Spring Grove, the home of Sir Joseph Banks who had employed Oldaker as a gardener from 18144.
The same year he built a peach house as 'the only security for fruit in all seasons' (ibid) again adopting 'the improved plan of detaching the flue from the ground - but Oldacres sunk to the level of the floor - by which the heat must be less and the spaces liable to be clogged' (ibid). He illustrated this, as he often did, with a sketch.
He experimented with various forms of grafting:
We have just whip grafted 'in the root' some Ilex on the common oak, having been unsuccessful of late in the common way - but have one plant about 14'feet high, cleft grafted on common oak, which is of uncommon health (GB-110/JES/COR/15/44)
Protecting his outdoor fruit trees was a constant concern. He speaks highly of
Copper plate printers canvas, which I procured last spring, + which Sir Jos B, A Knight + Dickson, pronounced superior to Buntine has been apparently of great advantage in covering apricot trees, on which we have a great show for fruit (ibid).
He also recommends oiled paper frames to protect the fruit grown in the open borders:
We have 2 peach trees just now showing their habitual excitability - having been planted out to open borders from having been till this season under glass but we have protected them, just in time, by oiled paper frames.(GB-110/JES/COR/15/63)
The Transactions of the newly formed Horticultural Society were also a source of ideas.
We have been successful in kale for forcing of which I got pots made with covers as proposed by a note in Hort trans. The convenience in examining the plants is very great (GB-110/JES/COR/15/41)
Sir Thomas also made contributions of his own to the Society and in 1819 offered a note on the use of powdered charcoal by which he restored a dying Groot Vorst hyacinth bulb growing in a glass on his chimney-piece5.
However in common with all gardeners he had his setbacks and failures. He had 'pease' from Mr Knight (probably T A Knight 2nd President of the Horticultural Society) though reckoned them 'not worth cultivation' (GB-110/JES/COR/15/44) and was similarly dismissive of Knight's method of raising large onions. Figs were grown in the vinery though he judged that 'Figs in pots are not worth their room in the vinery + I am going to try mulberries from Mr Knight's experience' (GB-110/JES/COR/15/48). However the mulberries did not prove a success as a couple of years later he
tried to procure some mulberries for pots last spring from Lee but they were not sent. I had 2 on a south wall but they bore nothing and have long since been ousted. (GB-110/JES/COR/15/50)
Alpine and Pine strawberries suffered from problems with slugs. Nor was growing Hautboy strawberries crowned with success 'tho' I raised them from seed of very fine fruit' (GB-110/JES/COR/15/53). Hares and rabbits were also a pest. He planted Pyrus japonica (Japanese quince) to be visible from the house 'but cradled as I cannot trust the vermin hares +rabbits' (GB-110/JES/COR/15/56).
A particular problem with wasps resulted in another letter to the Horticultural Society in 18206. Red chili strawberries, cherries and early grapes were 'devoured' in turn before bags of 'foundation muslin', which he considered more efficacious than Scotch gauze, were used to protect the remaining bunches. To deal with the wasps he devised a 'small landing net ……with a wire hoop six inches in diameter, a purse of scotch gauze sixteen inches deep, and a two feet handle' . This was held under the fruit and 'gently shook, the wasps came thundering down into the funnel' to be crushed by 'any flat wood,-such as a blank butter print'. His gardener, who seems to have been the one to shake the wasps into the nets, recorded 220 on one 'haul'. 'Scarcely a wasp could escape us' he writes and this saves his Moor Park apricots, peaches and nectarines.
A great many varieties of apple were grown as espaliers on walls and in open borders and Sir Thomas had apple trees sent from Hereford including Downton Pippin, Golden Harvey, Grange and Foxley.
Newtown Pippins were grown on a south wall but in 1812 were starting to suffer from what he calls canker but may be some other pest which laid eggs. Ever ready to try a remedy he treats it with oil of Turpentine - 'observing with a lens how they kicked up their heels'. Forsyth, he notes, 'mentions train oil being used in Kent, tho he prefers his soapsuds, with urine' (GB-110/JES/COR/15/45). This would be William Forsyth, gardener at Syon House and the Apothecaries Garden in Chelsea. Sir Thomas had earlier tried out Forsyth's 'ointment' on damaged trees. This may be the same as Forsyth's controversial 'plaister' which it was claimed restored wounded trees but proved to be of little use. In 1816 there is a cry from the heart - 'Apples all destroyed by caterpillars. Even Siberian crabs + the new Herefordshire kinds' (GB-110/JES/COR/15/53).
Sir Thomas is also credited with bringing a local fruit, the Rymer Apple, to the notice of Horticultural Society members. This apple was named after
a gentleman at Thirsk, who raised the tree several years ago' and was 'a handsome apple of  middle size…the skin is bright green, deepening to yellow, with good deal of red striping, freckled with russet; the flesh is soft, melting and juicy, with a fine brisk flavour, which becomes very rich when the fruit is baked.7
Although the original tree was grubbed up, Sir Thomas presented to the Society several young plants raised by grafts.
Often he was rewarded with good crops as he records one September - 'We have had a profusion of peaches + nectarines so as to give away 4 or 5 dozen per day for many days together...' (GB-110/JES/COR/15/71) and 'more grapes daily than we can eat' (GB-110/JES/COR/15/47) on another occasion. He grew a variety of vines, including Frontiniac, Black Prince, Frankendale and Verdillo (Verdelho), ordered from James Lee of Hammersmith. He also enjoyed the fruits of his, or his gardener's, labours. 'I have trained Siberian crabs on espaliers on which they look beautifully' (GB-110/JES/COR/15/49). He has them 'made into tarts + find delicious (GB-110/JES/COR/15/48).'Carlisle codlings we have had in pies throughout the season…no better baking apple + it is raised from cuttings' (GB-110/JES/COR/15/50).
There were successes as well as failures. He was particularly proud of his 'green fleshed Egyptian' (GB-110/JES/COR/15/43) melon grown from seed received originally from the Archbishop of York. Though not impressed by it at first, compared to his orange Cantaloupe, it quickly became his favourite.  He put his success down to 'having adopted Mr Knight's form of frames' (GB-110/JES/COR/15/47). In 1820 the Horticultural Society awarded him the Banksian medal for the melon, describing it as 'perfectly melting, rich, sweet and high flavoured' 8. He also tried the Great Mogul melon, Smith having sent seeds from Shugborough [Shuckborough], the seat of Lord Anson in Staffordshire. However despite giving it 5 'lights' was not impressed by the fruit - 'a worse kind I never saw' (GB-110/JES/COR/15/53).
He raised asparagus 'in one of the pigeon holed frames invented by Mc Phail - it seems that as no vapour of manure can affect the bed what is raised in it must be materially sweeter than by the common process' (GB-110/JES/COR/15/60). This method proved so successful that one December he
desired a friend to ask Dickson the price of Asparagus cut Nov 3rd + the answer was almost a doubt of having it so early; - but the fact is that we cut 2 hundred + 1/4 this morning, in addition to regular supply ever since we began. (GB-110/JES/COR/15/61)
New plants were arriving from around the world at this period and Sir Thomas was at the front of the queue to try them. In 1819 he received seeds from his Vicar, who had a sister in Bombay - Poinciana pulcherrima (Gul Mohr), Ipomoea quamoclit (Chinese creeper), Annona squamosa (custard apple). Later Adenanthera pavonina  which he calls Circassian beads arrived 'in the last parcel' (GB-110/JES/COR/15/57 & 58). Air plants, Epidendrum cochleatum and a Tillandsia, arrived in London from his nephew overseas but some died due to delay in collecting them (GB-110/JES/COR/15/59).
His wife died in 1820 when he turned 70 and, until his death in 1831, his health started to decline. He writes of his son and daughter in law becoming more involved in the garden.
My son + daughter have been amusing themselves for some weeks in placing single trees + shrubs on the lawns - + so zealously that the Lady carries various articles + even digs (GB-110/JES/COR/15/60).
However, even in his seventies, his enthusiasm is still undimmed as we can see from this letter of 1822:
My son has just sent me seeds of Bergamot mint from Peru. In such cases little time is lost for on coming down in the morning I always find my letters with the already ironed newspaper + when seeds are received they are sown before breakfast. (GB-110/JES/COR/15/68)
References / Bibliography
1 Loudon, J.C. 1827. An Encyclopædia of Gardening, 5th edition. London: Longman, Rees, Orme, Brown, and Green, p1027
2 Correspondence from Sir Thomas Frankland to Sir James Edward Smith, GB-110/JES/COR/15. https://linnean-online.org/
3 Oldaker, I. 1817. Account of the method of growing Mushrooms in Houses, Transactions of the Horticultural Society Vol. 2, p336-7
4 Chambers, N. Ed. 2000 The Letters of Sir Joseph Banks: A Selection, 1768-1820. London, Imperial College Press, p332-3 note1
5 Frankland, T. 1822. Notices of Communications. Transactions of the Horticultural Society Vol. 4, p130
6 Frankland, T. 1822. On Means of Destroying Wasps. Transactions of the Horticultural Society Vol. 4, pp107-8
7 Turner, J. 1820. Some Account of the Collection of Apples exhibited at the Meetings of the Horticultural Society during the Season of 1818. Transactions of the Horticultural Society Vol. 3, p239
8 Frankland, T. 1822. Notices of New or Remarkable varieties of Fruit in 1820. Transactions of the Horticultural Society Vol. 4, p514